About Our Service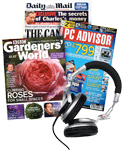 Do you want an alternative to print newspapers and magazines? Or want to keep up to date with the news as well as all the top magazine features? By subscribing to our service you can get access to over 200 titles to read on a CD player, mobile phone or laptop.
Our staff and over 200 volunteers bring you all the best news, entertainment, current affairs, lifestyle and specialist articles to make sure you don't miss out on your favourite topics. Subscriptions start from as little as £11 per year.
To find out more call us on 0303 123 9999 or email helpline@rnib.org.uk
We offer:
All the major daily and weekend papers. The full text is available electronically with selected highlights on CD
The best features and articles from top selling magazines including Readers Digest, Hello, Garden Answers, Which?, Private Eye, FHM, Yours, Cosmopolitan and BBC Music Magazine
Specialist publications such as Classic Bus, Astronomy Now and Steam Railway.
Radio and TV listings.
Five new bestselling children's titles including Aquila and BBC Horrible Histories.
Read our titles in a way to suit you:
If you are visually impaired, postage is free to your door for our CD service. If you can't read standard print for any other reason, talk to us to find out how to subscribe.
All prices listed on this website are applicable to individuals. If you are representing an organisation, such as a public library or local Talking Newspaper, and are interested in our audio and electronic content, please contact us to find out more